A (fairly) Complete List of (some of) the most Significant Claims of 2020 Election Miscounts, Errors or Fraud. | Sharyl Attkisson | Nov 29, 2020
What you've been asking for: A (fairly) complete list of (some of) the most significant claims of 2020 election miscounts, errors or fraud.
DATED: NOVEMBER 29, 2020 BY SHARYL ATTKISSON
It's easy to find articles claiming that there was no election fraud, or that it was "not widespread," or that it was not enough to "make a difference." It is less easy to find some of the actual complaints and allegations, unfiltered and undistorted.
Here is a (fairly) complete list of (some of) the most significant claims involving 2020 election miscounting, errors or fraud.
Please note that this resource lists allegations. It is intended neither to validate nor disprove any particular claim. The information and links help provide counterpoints to widespread, one-sided media reporting so that you can research and make your own judgements. All elections officials accused of improper counting or fraud have denied any improprieties.
The legislatures of Pennsylvania, Michigan and Arizona are holding public hearings on election fraud issues.
Arizona
State officials blame "a data error" for conflicting and fluctuating results in one county that dropped the appearance of Biden's lead by 6,000 votes, and then posted it back again.
California
Two men are charged with voter fraud after they allegedly submitted more than 8,000 fraudulent voter registration applications for homeless people between July and October 2020.
Georgia
Statistical analysis shows Biden pulling from behind in improbably consistent increments in Georgia and other states. "On Wednesday, Nov. 4, the New York Times reported President Trump was leading in Georgia by 103,997 votes. Then the Times' continuous voting updates showed ballots arriving for Biden in multiples of Joe 4,800 votes over and over again. In some vote dumps, the President actually lost votes." This continued until Biden pulled ahead by almost exactly 1,000 votes, gaining 104,984 votes in multiples of 4,800.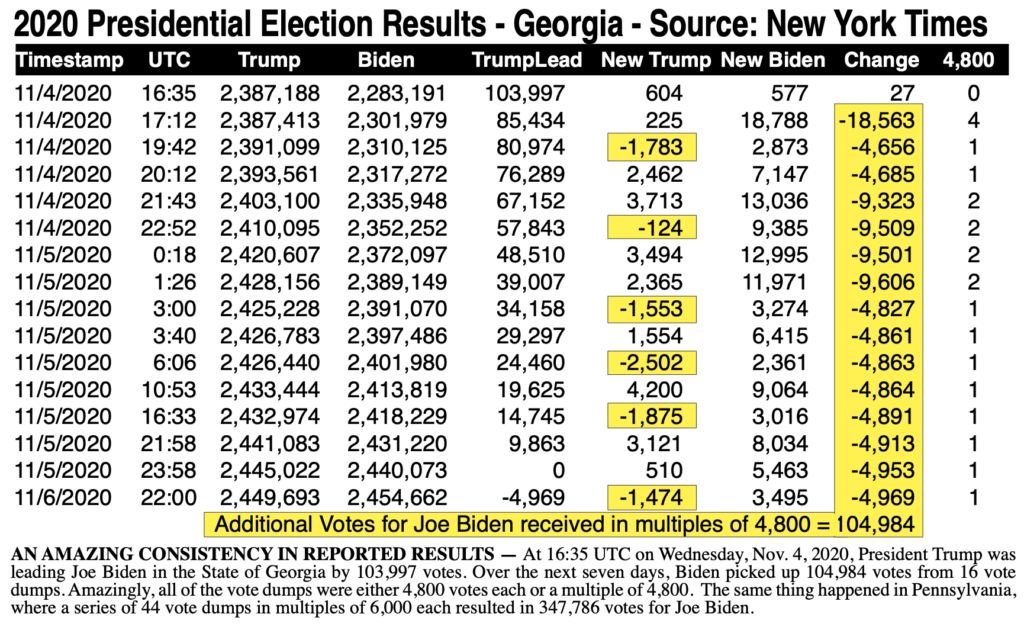 In Fulton County, all 900 military ballots went for Joe Biden. The 100% military vote rate for Biden seems improbably in conflict with the 2016 split, where Trump reportedly won the overall military vote 60% to 34%, according to attorney Lin Wood.
On election night, Georgia election officials suspended the vote count, citing a water leak in a master pipe. When Republican observers left, thousands of votes were counted, exclusively for Joe Biden. When people inquired, there was no work order for any leak. The only reported leak that night was a small leak in a toilet that "had nothing to do with a room with ballot counting," according to a lawsuit filed by attorney Lin Wood.
Election workers put masses of ballots in the wrong stacks and blocked Republican observers; there were suspiciously "pristine" "pre-printed" ballots; thousands of voters registered at specific, fraudulent addresses; 20,311 absentee or early votes were cast by people who were registered as having moved out of state; 96,000 votes were illegally counted for Biden; absentee ballot signatures were not properly matched. That's according to attorney Sidney Powell's lawsuit. The lawsuit also states that Dominion voting machines allowed for manual manipulation of vote tallies and alteration of settings to put ballots in a "question" pile where they can be deleted.
CONTINUED.....
FOR READING THE COMPLETE ARTICLE, SEE LINK BELOW:
-----------