Content Source/Owner
: 
DanielScranton.com
Original Post link
: 
https://danielscranton.com/the-july-2020-energies-%e2%88%9ethe-9d-arcturian-council/
Video direct url
: 
https://youtu.be/ehu29UGVMZM
This transmission was posted on June 30, 2020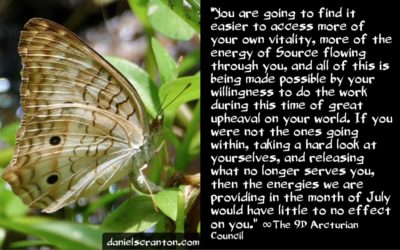 "Greetings. We are the Arcturian Council. We are pleased to connect with all of you.
We are continuing to monitor your progress so that we can determine how best to support you and what energies to provide you with, as you continue on there on your journeys to a fifth-dimensional frequency state. What we have discovered throughout this month of June is that there are enough of you who are ready for some more intense energies to justify all of us in the higher realms going even further with you than we would have were it not for the progress that you are making at this time. You are ready to experience more integration, more unification, more of the truth of who you are as Source Energy Beings, as All That Is.
And so, we and the other beings in the higher realms who are helping you are going to be providing you with energetic transmissions that will allow you to feel more unified in your seven main chakras. Now, you will still have those seven main chakras, but these energies are going to help you to align them and unite them on a more regular basis. You are going to find it easier to have that central channel open that runs from the top of your crown chakra to the base of your root chakra.