Content Source/Owner
: 
DanielScranton.com
Original Post link
: 
https://danielscranton.com/get-eager-about-the-grand-plan-of-ascension-%e2%88%9ethe-9d-arcturian-council/
Video direct url
: 
https://youtu.be/NMtE9fQPjdM
This transmission was posted on May 30, 2020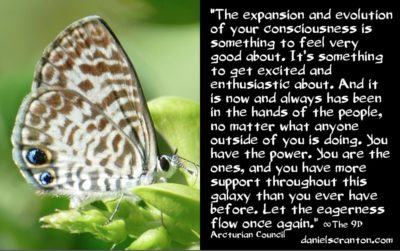 "Greetings. We are the Arcturian Council. We are pleased to connect with all of you.
We are very interested in the evolution of consciousness of all beings throughout the galaxy and the universe. We are not just focusing on humankind there on Earth, but rather, we are able to compare your journey as a collective with the journeys of so many other beings who are also shifting their consciousness at this historic time in our universe.
We enjoy the process of analyzing what is working for some and why, and we have determined that those beings who are doing the best right now are the ones who have recognized that something big is happening. It is the vibration of eagerness that is assisting those who are awake in other parts of the galaxy, and it is our observation that a lot of the eagerness that those of you in the awakened collective had has been diminished by the current circumstances that you are living at this time.